We already mentioned how purple is ubiquitous in the fashion and interior design industry. This versatile color can evoke many emotions, from one of calm to one of power. Take a look at some of our favorite looks below and see how you can incorporate purple into your home decor.
This purple floral wallpaper below inspires our shabby chic sense of style.
For a similar look try our Ralph Lauren wallpaper in Lilac below.
Designer Tobi Fairley featured this purplicious design on her blog.
If the above look is a little too much purple for your taste try picking out a purple fabric to use for either pillows, the bed covering or drapery. This Duralee Purple Silk Fabric has royalty written all over it!
And who would have thought the color scheme of purple and orange would be so compatible, we guess designer Jamie Drake did.
Robert Allen's Periwinkle drapery fabric would give you this desired look above.
This velvet purple armchair looks regal in this living room.
Robert Allen has some great purple velvet upholstery fabrics that would add the right pop to your home decor.
For a more dramatic look try this deeper shade of Amethyst.  
Our last look of the day is not for the weak of heart. These purple leather French antique chairs are perfect for the designer who likes to takes chances when decorating.
To achieve this look try our Fabricut's Copper Metallic Violet Leather Upholstery Fabric below.
Sneak peak: Ralph Lauren's Latest Fabric Collection "Brookfield"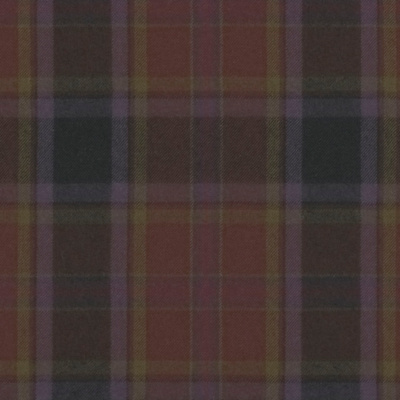 We'd love to hear which ways you incorporate purple into your home decor!